Social Initiatives
Communication with Stakeholders
OJR will continue to contribute to building a sustainable society through business dialogue with our investors, tenants/business partners, local communities and employees.
Investor Relations
Proactive IR activities
We proactively visit institutional investors in Japan and institutional investors in Europe, North America, and Asia.
We are also involved in IR activities that provide opportunities for direct communication with individual investors by holding briefings for individual unitholders and participating in events for individual investors held by securities companies.
◆IR activities during the latest years
From fiscal period
34 to 35
19/4/2019~16/4/2020
Fiscal period 36
17/4/2020~31/8/2020
(For Reference)
Financial results briefing
2
1
Investor meetings
273
126
Events for individual investors
15
1
Webinar
0
1
Property tours for institutional investors
0
0
Connections with Tenants and Business Partners
Enacting ESG Policy regarding procurement and other transactions
ORIX Asset Management Corporation, ORIX JREIT's asset management company, aims to create a sustainable society, as stipulated in the ESG Policy, through its asset management. To this end, "ESG Guidelines for Procurement and Other Transactions" was established to rigorously ensure that property managers and other business partners take into account the environment and business norms during Procurement and other transactions.
OJR also at times will enter in property management agreements with property managers to include clauses regarding ESG.
Ensuring ESG related measures from our business partners
OJR assesses the following ESG related measures on business partners related to outsourcing contracts in addition to evaluating management capability and service quality, OJR will conduct this assessment upon each contract followed by once every year.
Measures on environmental issues (E)
・Awareness of energy conservation and reduction of environmental load, including reduction of energy consumption and waste
・Priority on environment- and health-friendly products and service procurement
・Formulation of policies and establishment of systems for environmental friendliness and energy conservation
Measures on social issues (S)
・Respect for basic human rights
・Consideration of occupational health and safety in workplaces
・Elimination of human rights violations, including unfair discrimination, forced labor and child labor
Measures on governance (G)
・Compliance with all laws and regulations and internal company rules
・Conduct with a strong sense of ethics
Acquisition of "Certification for Comprehensive Assessment System for Built Environment Efficiency ('CASBEE') for Wellness Office"
We acquired B+(★★★) in "Certification for Comprehensive Assessment System for Built Environment Efficiency ('CASBEE') for Wellness Office" for 1 office "Round-Cross Roppongi"
ORIX Corporation, which is the parent company of OJR's asset management company "ORIX Asset Management Corporation" (OAM) has been operating a serviced office "Cross Office Roppongi" at this property. OJR obtained this certification as a result of OJR and the tenant cooperating to maintain and enhance the health and comfort of its building users.
Round-Cross Roppongi
Pursuit of tenant comfort and safety
By covering the existing exterior with a glass curtain wall, we modernized the image of the building. Because it was a building that was designed and constructed under the old earthquake resistance standards, upon acquiring certification under the Act on Promotion of Seismic Retrofitting of Buildings, we completed seismic retrofitting.
Construction was done to move the parking space, widen the entrance area, in order to raise satisfaction and convenience for tenants.
Round-Cross Tamachi:Example of renovations to first floor Common area and bathrooms on each floor
Before renovation
After renovation
Initiatives to improve tenant satisfaction
OJR commissioned an external survey company to conduct a tenant satisfaction survey to ensure that we are managing properties with the aim of improving tenant satisfaction which is one of our identified materiality.
Tenant satisfaction Trend

Survey summary
| | Survey period | Targets |
| --- | --- | --- |
| 2020 | Dec | Approx. 600 tenant companies in 53 office properties located in Japan |
| 2019 | Nov-Dec | Approx. 600 tenant companies in 52 office properties located in Japan |
| 2018 | Oct-Nov | Approx. 190 tenant companies in 27 office properties located in 6 Central Tokyo Wards |
Tenant satisfaction is the percentage of tenants stated that they are satisfied on overall satisfaction.
OJR shares this survey results with property managers(PM) and building managers(BM) to drive service improvements.
Engagements with the Community
Connections with Communities
We carry out initiatives that contribute to society with the aim of coexisting with and revitalizing the communities.
Property:Seafort Square Center Building
We have organized the summer event, Seafort Paradise, at Tennozu Seafort Square
Property:Hamamatsu Act Tower
We have supported the summer event, "Act de yaramaika Hamamatsu matsuri.
Property:Cross Gate
Together with the Promotion Committee of Yokohama Minato Mirai 21 Area, we played a key role in invigorating the community.
Coexisting with the region's nature and ecosystems
Property:Hotel Nikko Himeji
| Before renovation | After renovation |
| --- | --- |
| | |
Coexisting with the region's nature and ecosystems and contributing to local community
To conserve biodiversity, we are revamping plantings using native plants to avoid disturbling the region's original ecosystem.
Creating an open local community whereby restaurants are renovated barrier-free and leafy vegetables produced in city's disability support centers are being used.
Caring for safety and health in the community
AED for use by anyone in the community were installed in commercial facilities owned by OJR, which helped to improve the safety and security of tenants and people in the community.
【Example of AED installation】

◆Install common rest space
Property:aune Kohoku
| Image drawing of renovation | After renovation |
| --- | --- |
| | |
Upon tenant replacement, we attracted a restaurant tenant with a high ability to attract customers. In order to improve the convenience of the customers, we also installed a common rest space.
◆Sponsorship of sporting events for people with disabilities
Property:Seafort Square Center Building
Provided by Japan Blind Football Association
Sponsored International Blind Sports Federation (IBSA) Blind Football World Grand Prix for 3 years since 2017.
■Contributing to the Health and Comfort of Tenants and the Community
OJR has contributed to the health and comfort of its tenants and the community by installing a bicycle sharing system at its MG Ichigaya Building. This initiative also relates to OJR's response to the issue of climate change through the reduction of CO2 emissions and other measures.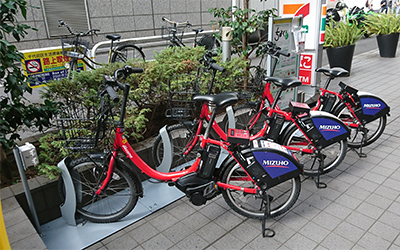 Relationship with Employees
Firstly, it is important to note OJR does not have any employees pursuant to the investment Trust Law as J-REITs are prohibited from having employees. Therefore, OJR's authority related to asset management is fully entrusted to ORIX Asset Management Corporation.
People are the most significant asset to ORIX group including ORIX Asset Management Corporation. Based on our concept of "Keep Mixed," we hire diverse human resources regardless of nationality, age, gender or work history, integrating their diverse values and expertise with the aim of a Fusion of Intelligence to create new value and workplaces that maximize the capabilities and expertise of our employees. Specifically, we create fulfilling workplaces by establishing a working environment that respects diverse working styles and reforming our human resource system ahead of the pack instead of just reacting to current social conventions. Moreover, we are enhancing training to offer opportunities for employees who embrace challenges and to enable employees to excel internationally. This initiative covers ORIX Asset Management Corporation, a member of ORIX group.
ORIX Group Human Capital Strategies
https://www.orix.co.jp/grp/en/pdf/sustainability/sustainability_report/SR2019_05E.pdf
ORIX Asset Management Corporation Human Capital Strategies
https://www.orix.co.jp/oam/en/esg/#strategy